Latest
Regret, Recovery And Endurance Sports
Nov 1, 2023
So, I recently saw a post by Lionel Sanders, a triathlete known for his rebound from drug addiction and recreating himself Into a world class athlete. He coincidentally won the Oregon 70.3 I was in this year. He was speaking of how he was, for four years or so, a drug addict. Cocaine and ecstasy were his drugs of choice. It got me thinking about my own journey and recovery (or should I say "escape").
To be fair, I never went through AA or NA (Narcotics Anonymous) and really didn't have much of a support group. My pride and ego wouldn't let me rely on other people to help me get back on track. I am still working on trust. If you know me or if you have read any of my other blogs, I am an Avoidant Personality as a product of being raised in the woods with no supervision other than two older brothers. In my teens and pre-teens I was obsessed with sport: baseball, running, speed skating, and riding my bike. I was a tornado of energy and would probably be labeled ADHD in today's society.
Because of the chaos of our home-life, distance from town, and welfare level of funds I was unable to join structured sports teams in the things I wanted to do. Rumor had it my father didn't want to buy the football pads for Pop Warner football. My BMX bike was a Columbia bought at Child World, although as an eight year old I didn't really know the difference between a good and bad bike, but you find out quickly from your friends. Hockey? forget it. No way I'm getting skates and pads and getting driven to practice early AM. Swim? We had a pool. Go jump in. The idea of going to an actual building with a pool and coaches in it was exotic and fancy to me.
Looking back at all the wasted time and wasted brain cells I spent throughout the years destroying my mind and body with drugs and alcohol I constantly beat myself up with regret. I could have done something with my youthful vigor other than dancing until six am in a club high on MDMA and god knows what other drug I could get into my body.
My addictions were numerous. In my teens and most reckless years I remember crawling around in a double wide trailer at seven am looking for pieces of cocaine. I have sat in the back of a car waiting for my turn to smoke coke out of a plastic water bottle on the side of the road in the bad part of town. I have been completely lost and alone tripping on acid in Boston.
Most of those kids I shared these times with are now dead. Literally out of my group there are only a few of us left and it is fucking scary. Regret is a heavy burden and an albatross you cannot take off your neck. Shoulda Coulda Woulda does nothing for your mental well being.
I see the same addictive personalities in the world of endurance sports: The self-inflicted joy and pain, the camaraderie of like minded addicts. It is very similar to that of many drug users. Especially the "upper" type drugs like coke and MDMA. The pathways of satisfaction is very similar. It's not surprising to me that a former self described "coke head" is successful in the world of triathlon. I wish I had the courage to have walked away from that lifestyle in my 20s. True, I raced mountain bikes when it was still grassroots and did ok, but it was more of a hobby and something I just did and didn't really take it that seriously. I still smoked weed daily, I still went clubbing and did drugs and drank a lot. I had no support or team other than a bike shop that gave me a jersey and a pro deal because I placed in a few races and paid my dues. I was getting by on my energy and love of riding the bike.
Now I focus daily on rest, nutrition, long runs and bikes and swims and recovery. My brain which used to be obsessed with where the party is and who is holding what is now laser focused on my performance. It's an inversion of the results you would get from drug and alcohol usage but the same concentration and single-mindedness as a drug addict. There is nothing you can do about bad decisions of the past, and finding a way out of the madness of addiction is damn near impossible, but if you can find a handhold, a foothold, and work your way up that cliff and escape that well of pain it is worth every second of effort. If you are there and struggling don't hesitate to hit me up. Keep at it!
Trail Running Pipeline and Reliving My Near Death Experience
Aug 3, 2023
I rolled over…Shit! 6:00am. I was supposed to be at the track running at 5:45am.
After four triathlons It has become very clear that my biggest weakness wasn't the open water swim as I thought, but the run. My last race was lost on the run. I had first until about half way through the run and two guys In my group blew past me. It was disheartening to say the least.
Every race I am learning something new: When to bathroom break. Dismounting the bike quicker. Taking the extra time to put on socks for my run (something I am going back and forth with: Half marathon: yes, Olympic:no). Nutrition. Getting my shit on and off quicker. Remembering where my transition place is.
Daily data uploads of my workouts to Garmin/Training Peaks/Strava, coaching, support, rest, all are very important but experience learning the intangibles of the race can mean so much.
With all that being said I missed my chance this morning to work with coaches at a track in a structured environment to help with my tortoise-like run. To be fair I did do a very hard bike workout and swim the day before and I was already pretty tired from the exertion. I went to bed at 8:30 and was asleep before my head hit the pillow.
So, I opted for an out and back tempo trail run on Pipeline trail in beautiful Millcreek Canyon, which is about ten minutes from my house. I drove up to the top of Pipeline which is out of cell service and started the run in my typical pace: slow. Since all my runs are in my neighborhood on pretty flat roads I had to work on getting the rhythm of the trail while trying not to trip on the jutting rocks and split my face open. It's definitely a different type of movement. Different but the same, ya know? Like playing acoustic guitar and switching to electric guitar. The mechanics are the same but the feel is different.
Being a slave to data I kept checking my watch. Tempo was slow. Back was hurting. Legs not responding as well as I had hoped. Usually I run with music at 180BPM to set my run tempo but today I just could not keep up. Getting so worked up on the numbers and going over and over in my mind how bad my run is I forgot to look around. It hit me that I do these things for the experience. I'm too damn old to think about actually winning overall races or getting sponsors like I did when I was 30 and racing mountain bikes. I finally was feeling fine with my run, had a good tempo going when I passed a trail that went up to an observation point. Then it hit me: I almost died on this trail.
Almost three years to the day I was on a date to watch the sunset and we went up this trail. She packed a lunch and wine and it was quite thoughtful and beautiful and we were having a great time getting to know each other when I realized after eating the dessert cookie that there was macadamia nuts in it. I am deathly allergic and did not have my epi pen. We started out of there as fast as we could but anaphylaxis came on quick. I vaguely remember passing out on the Pipeline trail and when I cam to it was dark and cold and she was above me screaming for help. There is no cell service that high up Millcreek so we were all alone. My shirt was ripped where she tried to catch me as I fell and she later told me that I was in full seizure and convulsing. We were a good mile from the car and she had to help me walk while I used her trekking pole for support. I passed out twice that night and could not put one foot in front of the other. For those that know this trail, the top of Pipeline trail is very narrow in places with a rock wall or brush to the north and a sheer drop off to the south. My date, all 100 pounds of her, went into full EMT rockstar mode. She kept telling me where to place my feet and motivating me along as we went. She got me back to the car and to the hospital that night and I am forever grateful.
Things didn't pan out with her and we went our separate ways but the experience will be in my heart forever.
Every step I ran today on that path back to the car at the top of Pipeline I was recreating in my mind. That was as close to death as I had ever come. In my fugue state I saw something, I don't quite remember what but It definitely changed me. I have to remember that this new sport I endeavored upon is just a sport. I have to appreciate all that life has and stop and look around every once and while. Forget the data and the numbers and races.
After all, you never know when that cookie is going to come for you.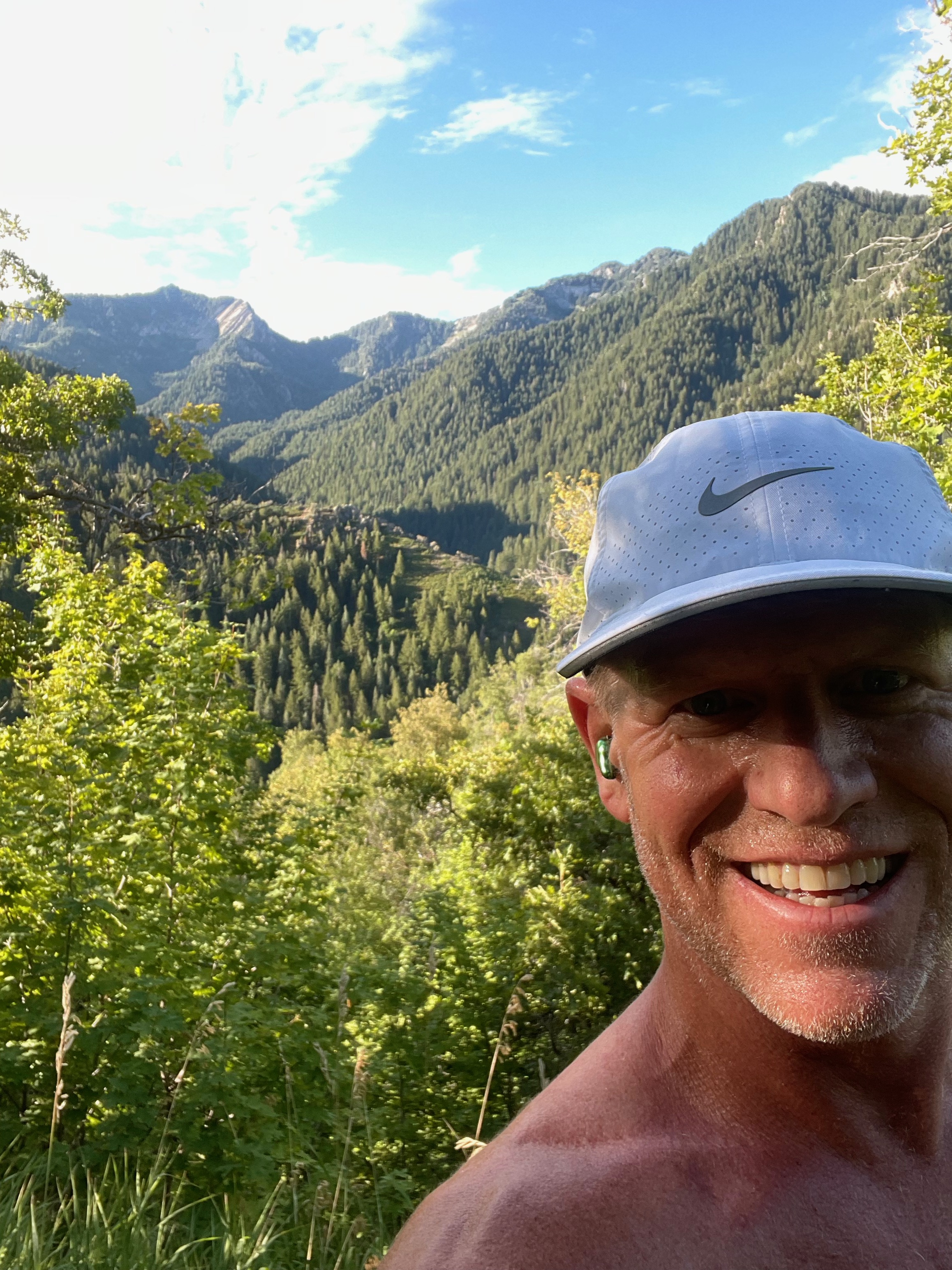 Pain And Pleasure And Suffering Through Triathlon
Jun 3, 2023
Here we are, another day. I check my Training Peaks to see what workout I am to do today. Swim? Bike? Run? Brick? long? short? Do I get a day off ever?
I am one month away from my very first Half Iron Man In Salem, Oregon and I am not ready physically, mentally or emotionally. I look at strava and my fitness has trended downward by 3% this month. How is that possible? I mostly cut out sugars and starchy carbs. I have been suffering headaches and brain fog and walk around like a damn zombie after my workouts.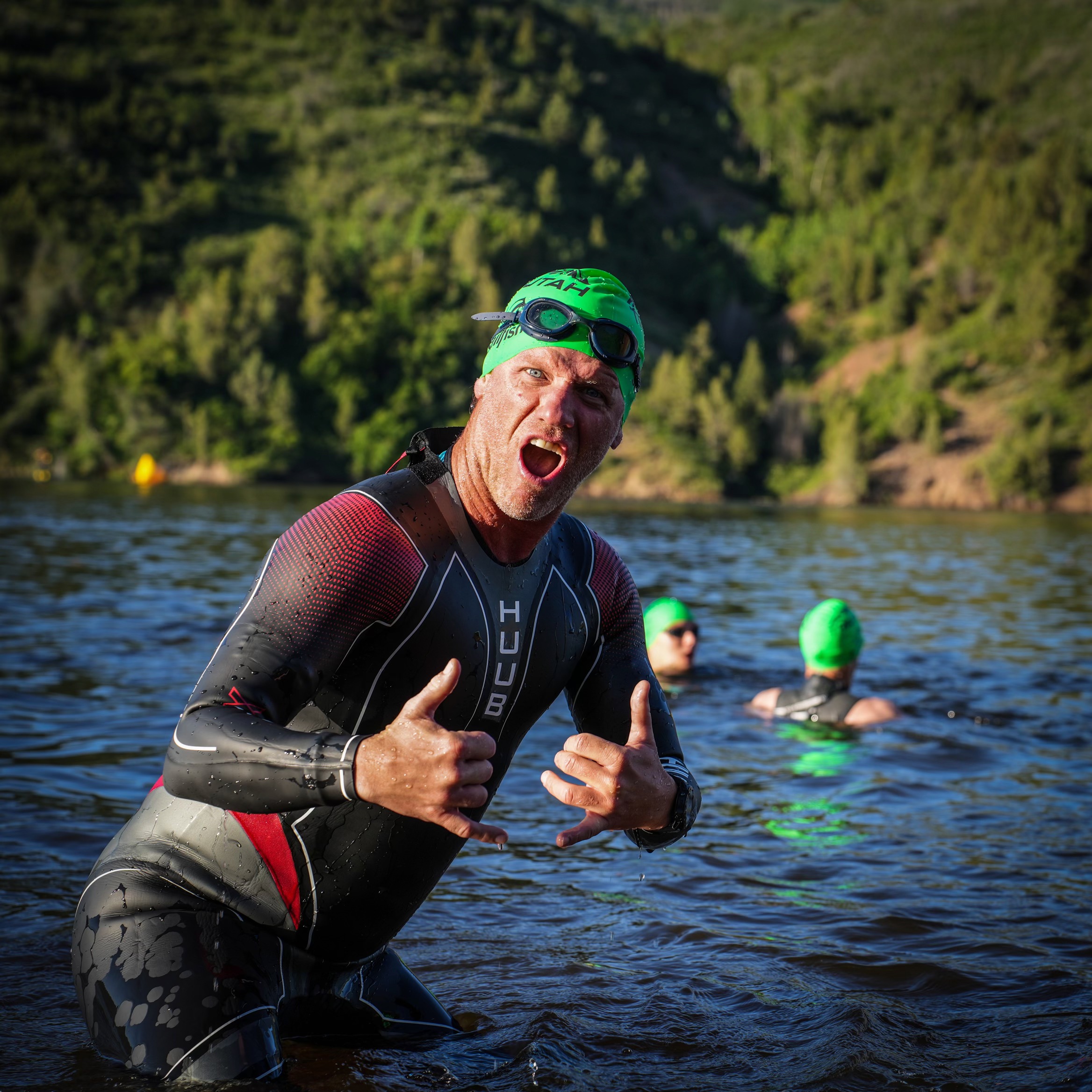 My workouts have been slowly getting longer and faster. My swim average has gone down about 10 seconds per 100 yard in the past six months. My run form has improved dramatically and I don't look so much like a hunched over old man shuffling along (to be fair I won't be mistaken for a Kenyan any time soon). I am told by my girlfriend and mother (not at all biased opinions) that I look way more fit. Yet, I did a race this weekend and my swim was slower than my first triathlon in Sand Hollow a month and a half ago, my body rebelled against me and cramped up, and my run was shit.
I know you get bad days and bad races. I know sometimes you don't rest enough, eat the right combination of nutrients, reduce stress, hydrate, etc..but it doesn't stop my stupid lizard brain from over-thinking it and spiraling down into despair. Any athlete, amateur or pro, has been through the ups and downs of racing.
Sometimes, almost daily, I ask myself why I do this? My ski buddies give me shit about my training and choice of summer sport: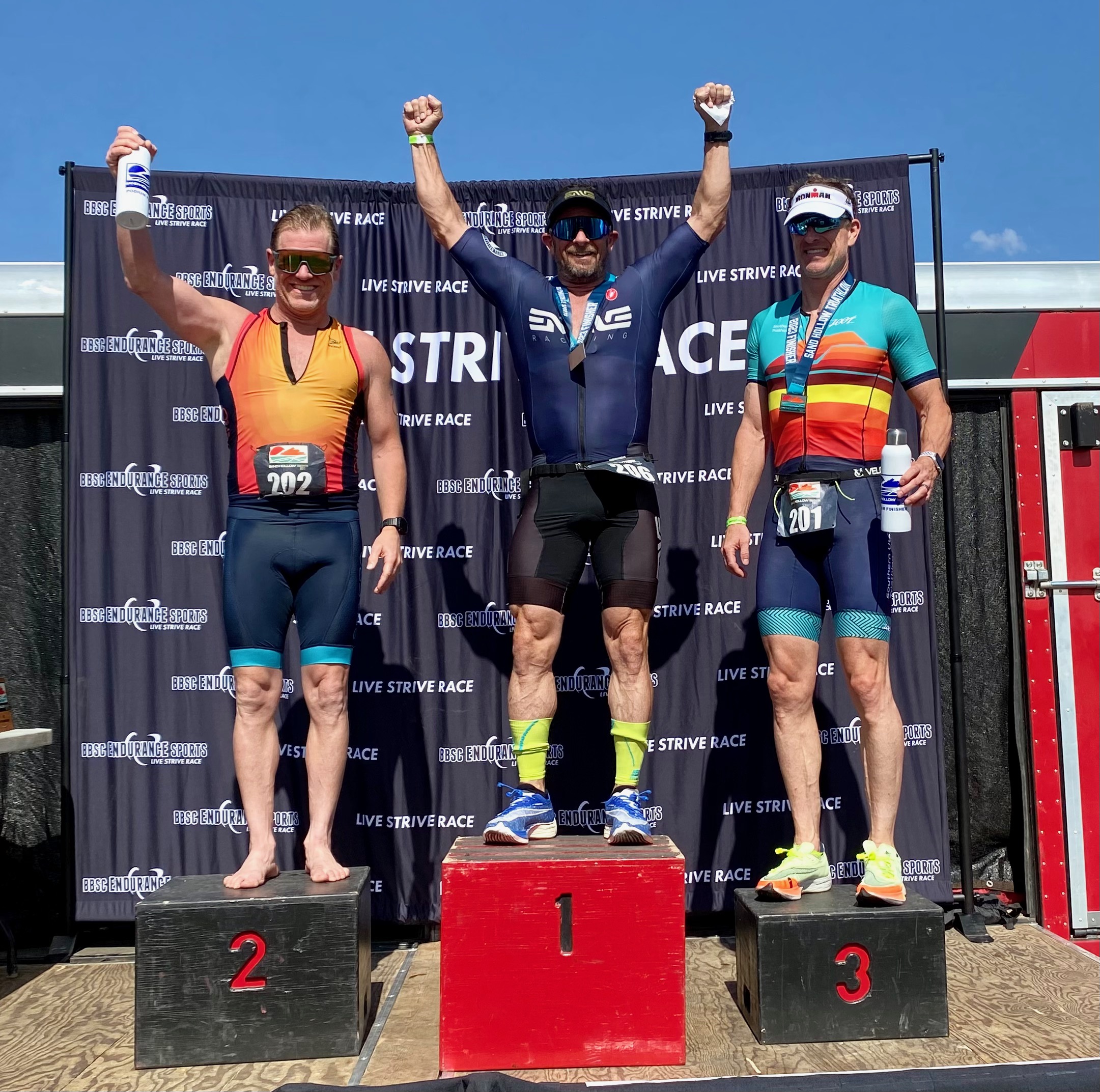 "What, you trying to be the fastest old guy?"
In all honestly triathlon, marathon, ultra-running, Xterra, and any endurance sport that attracts the masochists and fitness freaks of the world is my kind of event. I love the extreme personalities, the camaraderie, and being close to the people that are the top of their game. I don't look at any of these races as something I am going to win. Yes, maybe a podium at a local event in my age category, but I am brutally aware of my age and fitness level. Time is a real bitch, and even though my brain still thinks I am 32, my body says "NOPE". Yet, despite my laissez-fair attitude towards racing there has to be a line where I dig deep, focus, get the eye of the tiger and go for my own personal gain.
Everyone has a "Why". Mine is simply that I want to push my body and see what it can do. To explore the pain and see where my mind goes. To see how I fight through it. To see how the body responds to adversity, and mostly to experience it. Just live through it and experience it. Because, man, just going to the gym and lifting weights and jogging with no goals in mind is fuckin boring as hell. No thank you. Been There Done That.
So, for whatever reason you find yourself wanting to learn an instrument at 40, or take up surfing at 50, and some nay-sayer starts giving you shit that you are too old, that you will never win anything or be a rock star, tell those people to eat a bag of dicks.
This is your life, you live it however you want to. Ask yourself: When you are on your deathbed will you be happy with the choices you made or sad that you went with the status quo so you don't look "foolish" to some asshole who hates themselves and are jealous that you are trying something new?
Be Brave Enough To Suck At Something.
sand hollow triathlon
May 4, 2023
YIkes! My first triathlon coming up this saturday May 20. It's olympic distance and I'm not read at all. Despite training daily, quitting drinking and getting tons of sleep, not to mention foregoing all late night gigs and apres ski frivolity. Wish me luck
Revelstoke, Icefall and the Gout Monster
Mar 2, 2023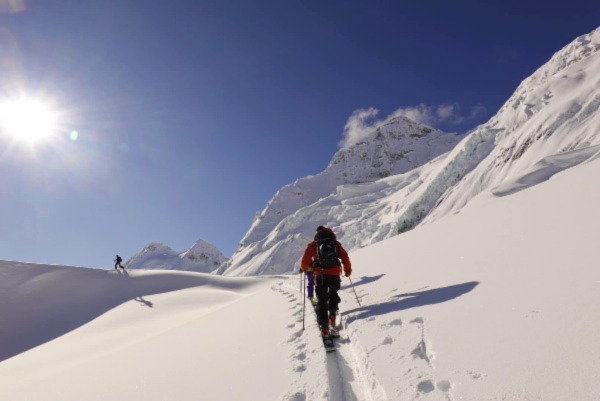 The plan was to drive up to Big Sky and ski a day, then boogie up to Revelstoke for the rest of the week.  There i would meet Young Kyle and the Gritch for some revelry before the heli picks us up to take us off grid to the Icefall Lodge for one week of touring, glacier skiing and rustic off-grid good times.  The only problem is I am, as my ex used to call me, a Sickly Boy.  At my age I have many pitfalls to dance around, STDs to manage, and probation officers to check in with in order to make it happen.
Gone are the days of jumping in a car and just going, plans be damned ! Now I need to plan and organize my pills and powders to get me through this passion play.  
When I am home in Utah I have a somewhat regimented diet and workout plan.  I have a girlfriend who is a sadistic personal trainer, six time Ironman athlete, and an east coast Italian who keep me in line.  Sleep and work and skiing flow together and my body is happy.  
Walking the fine line between being at my best both physically and emotionally and living in a ski culture of apres drinks, free wings, and vape puffs on every lift can be treacherous.  Once I leave the confines of the Beehive State for two weeks of skiing and sodomy my brain somehow reverts to that of a hedonistic 21 year old on spring break. 
I pulled into Big Sky and immediately parked the camper behind The Bar (location unavailable). I had beer, a bacon burger with fries and ordered a bottle of Jameson for the hut.  The next night I crashed at a Walmart lot in Missoula then up to Revy. 
Now the first thing any (slightly) sane person should do at Revy is to order poutine with gravy, an elk burger and a beer with a shaft shot (or four) for dessert.  Followed by handfuls of Old Dutch Ketchips.   Since I am not someone to mess with tradition I stuck with this new dietary plan.  
Two beers, three shaft shots and a caesar (the drink not the salad) later I am doing donuts in the RV lot  with my camper.  I call and tell my lovely lady back home how wonderful it is, how wonderful she is for taking care of business while I debauch, and how incredibly beautiful the Revy sunsets are from the camper.  Her reply of "mmm hmm" sobers me up a bit as I feel like she is (correctly) guessing how drunk I am. 
After two days of this new dietary regiment and long days of skiing we head over Rogers Pass to Golden to prepare for the heli pick up the following day. 
It was then that I started to feel the tingle in my foot of Something Not Right. 
SendyWendy showed up to complete the group and we all headed over to the Wolfs Den for even more poutine, burgers and drinks. We sat at the Wolf's Den bar with a hockey game on every tv, burger in one hand and a beer in the other and the tingle in the foot grew to DEFCON 4 and I began to quietly question my dietary and life choices.
I always thought it was sort of a joke in bad Adam Sandler songs and reserved for fat old men who ate too much meat, but gout is actually hereditary. My brother and father have it but they never really took care of themselves.  For years I thought I skirted that particular genetic flaw by exercising and staying healthy, which I guess I did in a way.  However once I reverted to 21 year old Spring Breaker the genetic disorder smacked me down hard.
As with anyone who has this painful affliction, It mostly comes on at night and fast.  Two hours later and it felt like my foot was broken.   I laid in my cheap hotel bed icing my now swollen sausage of a foot , watching Stephen King's "It" at 3am, and wondered if I had to bail on the trip and was hoping an evil clown could come out of the sewer drain and just kill me.
 Skiing long untracked lines on glaciers notwithstanding I didn't want to lose $2700 American, miss my very first heli ride, and a blow a week off of work because of my bad decisions.  My cheapness (and helicopter fetish) prevailed and the next day on literally no sleep I got to the drop off with the sausage squeezed into a touring boot and a gangster walk that would make Snoop jealous.  
The organizing guide, Grumpy Mike, took one look at my gimp walk and declared to another that I am the guy that "should not be skiing".  Yet as Ullr would have it I sat next to a man and his son from the UK who also suffers the same affliction and had pills that he gave willingly and immediately to a strange, loud, smelly American.  The kindness of skiing brethren and people from England is so understated: He literally saved my trip.  I missed one day of skiing that I was told wasn't great and by Monday I was hiking up to ski ridiculous lines around the Icefall lodge. 
IceFall 
The guides at Icefall are top notch, they know their shit and are some of the best in the world.  I've seen them wash dishes, stoke fires, clean toilets, carve each kick turn switchback on the skin for easy turning and shovel ten foot high snow off the odge's roof.  They did all of this after or before kicking our collective asses up and down 5000  feet of vert daily.  One guide in training, a stoic yet very kind Russian bear named Dennis, took the Gritch's skis when he broke a skin hanger and put them on his back, gave him his skis and boot packed the rest of the way to the lodge, almost beating the crew that were on skis.
As superhuman and nice as the guides are this isn't Disneyland:  They aren't going to hold your hand or get you a tow rope to the top and they will definitely bust your balls (in a kind Canadian way) if you whine or complain.  I watched our guide (jokingly) tell a an older  man that wanted to bail to take some concrete pills so he would "harden the fuck up" for the next day.  I immediately loved our guide. 
I have to take this moment to make a note here:  Don't sign up for any group guided touring event and ruin it for everyone if you didn't train for it and are not prepared or if you are generally an asshole and not good with people.  It's a group effort and you are living together, eating together, possibly even saving each other's lives. If you bitch and moan amongst some of your comrades after 2k of vert that your tootsies hurt and want to go back to the hut you will be shunned and ridiculed. Don't be that person.  This guy I just mentioned was apt  to divide the crew between Us and Them and told SendyWendy that we were "voted off the island"  for being our typical loud American Asshole selves, despite he himself being a loud know-it-all Canadian Asshole, but I digress…
Also Note: I once went cat skiing with a Canadian gal in Park City.  It was epic conditions: Deep and untracked on every ridge. On the way up we learned a few of the guys were hedge fund managers from LA (because that's what they told us immediately upon sitting down in the cat).  We got out and they grabbed their pristine Soul 7s with heavy marker bindings and race walked to get first in line for the drop like it was Black Friday and Target was opening. Our guide told us to farm and floss and keep our lines tight and If we were a fast group we could get an extra lap or two.  Common knowledge for group tours: move like a well oiled machine and reap more face shots. The First Alpha banker dropped after the guide and proceeded to make big wobbly wide turns and blow past the guide by 100 feet, and the second guy crashed dropping in and had to take ten minutes to recover his yard sail before we could go.  The guides were not happy, we were laughing uncontrollably and by the end of the day they cost us a cat run. There was no point to this story other than: don't be That Guy. We are all in it together.
Anyways, My foot felt fine and later Kyle and I were scooting up the skinner trading bad movie quotes and one liners.  When we got to the top the group let me drop first due to missing a day and I finally pointed my Moment Deathwish Tours (with Voyager bindings)  downhill on a somewhat flat ridge which rolled over and narrowed into a walled chute and then out again on a wide open apron.  I screamed like a blood lusted viking entering Valhalla.  The snow was perfect.  Kyle followed me on his Moment Wildcats (also with Voyager bindings) barely turning and going 60 mph (100 kmh).
We got into the woods for our second ascent and dropped into a narrow slide path of untracked beautiful snow through tiny pines and contoured rollers under blue skies.  I watched each member of my new temporary tribe ski down. Huge whoops and smiles all around and some of the older folks displayed such perfect form and grace on their descent.  We all hit the bottom hooting and high fiving. Strangers were becoming friends through a shared love of this grunt -and-grin activity of ski touring.
The next day Dreaded Goutfoot still felt ok thanks to the UK pills and we toured out to the glacier hut for a night.  With harnesses in our packs and two lunches for the next two days we were told the glacier hut was a bit rustic (understatement).  But, we would ski  a classic: The Tempest.  The prospect of skiing this bucket list line was too tempting not to risk possibly having the demonic gout return and get stuck out on a glacier unable to walk.  The idea of a heli SAR coming to get me if I couldn't get back sat foreboding in the back of my mind. 
We skied 5k vert and the hut was indeed rustic.  The nasty gout monster somehow worked it's way into my toes possibly due to the seven hours of squeeze in my ZeroGs and I ran out of magic UK beans ( hey a rhyme!). That night ten of us slept in one big room in single beds: a cacophony of snoring and creaking wood bed frames, to the beat of the thrumming of my foot getting worse and the ugly gout monster returning for another round.  The threat of a SAR got realer and I got no sleep, a shower, or even a pillow. 
The next day our guide Ryan asked about my foot. I had the option of staying at the hut all day and wait for the next group or taking some Tryactin pills ("tryActin like a real backcountry skier").  I dry swallowed four ibuprofen and squeezed the foot into the boot. After a quick standing, one footed hop and Ministry of Silly Walks test I went for it, and I was so glad I did.  
We proceeded to hike the Rostrum glacier on one of the coolest up tracks i have ever seen.  Through ice fields and around huge crevasses we ascended methodically to the top of the Tempest.  A recent slide occurred and we had to ski the debris before entering the wide open untracked powder field.  
To say skiing glaciers makes you feel small and vulnerable is like trying to compare a planet to a star.  Glaciers are big. Very big . I am very small and fragile. It's not a fair fight. 
I will state again how impressed i am by the dedication, knowledge and raw energy of our guides.  Not once was I worried about slides, non-contoured skinners, or even bad snow conditions. Any zipper crust or wind scour was observed and direction changed to a more suitable zone.
We made it back to the main hut in time for four o'clock snacks and my foot was pretty much back to DEFCON 4 level of pain.  I had to take the remaining two days off to rest and ice but the three days  and 15K vert that I had skiing Icefall were among the best days of skiing in my life.  I cannot thank the guides and Chef Geoff enough for their hospitality. 
We got back to Utah in time for yet another forty inch storm and hopefully with strong meds and a strong will I can get some of it. Now if you will excuse me I have to go fill a prescription…
I've done some dumb things in my life...
Mar 6, 2023
But this Is right up there for one of the dumbest…
After driving almost 17 hours through Big Sky, MT and Missoula and up through Golden to Revelstoke for a few days of skiing I spent a few days In revelry. Drinking too much, eating burgers and poutine with gravy and cheese curd, It came back to bite me hard.
I'm sitting up, wide awake in extreme pain typing this. Frustrated at my own stupidity and short sightedness. I have been waiting a year for this trip: A week of backcountry ski touring In the Canadian Rockies with my friends and now I am here In a shitty motel In Golden BC where tomorrow I catch a helicopter out to IceFall Lodge. I can't sleep at all, the pain In my foot is unbearable, my mind is racing and it's my own damn fault. All I can see is being unable to ski and be stuck In a lodge for a week doing nothing.
My family has a history of gout. My older brother has it, my dad too and despite my strict workouts and mostly strict diet when I stray and enjoy life too much it flares up. My right foot feels broken. Right now I am so mad at myself for my dumb choices. I am getting older, I cannot party like I used to. My body let's me know how fragile I have become. I am going back and forth with the consequences. Should I bail tomorrow and drive home? Eat the 2800 I put into this trip? Suck It up and go and hope I recover quickly?
I've decided to do the latter: I will not let this stop me from a life experience that has been on my bucket list forever. Stay tuned…
Mid Holiday Updates 2022
Nov 1, 2022
Hey, It's been a bit, eh? Post thanksgiving Monday. Not really much to say In the day to day. I signed up for my first IronMan (gulp) In July and have been sort of kinda keeping a good training schedule between skiing and climbing and music.
Music
RATS played downtown SLC this weekend. We played at Lake Effect to a raucous crowd. About three years ago I vowed never to play Salt Lake again. Too many gigs of hipsters staring at their phones or empty bars really turned me off. RATS was designed for ski-town party music: We can plug Into any ski town In the country and people would dig It. Salt Lake has changed significantly and I love It!
Snow
Also, the past few weeks we have had tons of snow fall and the best opening day at Snowbird I have had In 20 years. Tons of touring days and fresh lines and way more people In the backcountry. All the hiking for the good stuff and long runs at Snowbird and Alta have put a strain on the training schedule but I am ok with It.
This past summer was: wake up, gym, swim/run/mountain or road bike. Repeat. Now with skiing back In the mix and an upcoming trip to IceFall Lodge In Canada (5-6K of ski tour vert a day) and then IronMan In July, things are getting a bit tight.
I know I sound like a broken record when I keep First World complaining about the lack of energy to do all the cool, awesome shit In the world but man I keep getting sick and It's pissing me off. Stop being weak, body! Cut It out!
Training
Coach starting to put extra workouts In around my skiing schedule. Had to swim at Snowbird's pool last week. At 8500 above sea level and about 95 degree water It was like doing laps In a hot tub. It sucked!
WIth all the skiing and touring the past week my runs have been nonexistent. I went to the gym and ran on the treadmill just to get my legs moving. Pace was good for five miles. Tried to keep everything In Zone 2 but my ego won't let It happen. I had to do two 4-5 minute Intervals at Zone 4 and I felt strong. Been riding the bike trainer and using Zwift to build my FTP (Functional Training Power) and It's been slow going but In the right direction.
Amore Supratutto!
My Take On Student Loan Forgiveness
Aug 4, 2022
I , nor anyone in my family, had any idea what to do when I went to college. I was the first in my whole family (cousins too) who got a bachelors degree. My MBTA bus driving Italian dad said, "join the army" my mom said, "take out loans" when I asked for financial help.
I didn't know about grants or scholarships and I was kind of a total fuck up in high school. I didn't go to college until two years out of high school and I didn't have any guidance counselor at 19 or any internet or resource to inquire.
I did have a step-father who was a self made doctor, who said, "you are nothing without an education. Go back to school".
\ So, I simply walked into Bridgewater State College financial aid office and signed my life away. In hindsight I could've tried harder to find money to help but i was a kid and I knew that I didn't want to work in a kitchen my whole life or join the army or be a bus driver.
\ During college I worked full time as a cook and that was enough to pay for my 83 Sentra, gas, food, living expenses. Now at 51 (and three hard earned degrees later and a good career thanks to that) I have deferred many times (for hardship or my masters degree) and the interest is about 30% of each monthly payment if I pay the monthly amount.What people who haven't gone down this road understand (and apparently very easy to judge, judging by Facebook) is it is the compounding interest that keeps your payment stagnant. It's not just a big loan like I bought a Tesla or something. It is designed to compound interest paid to the lender anytime you defer.
I was so frustrated I called AES (my student loan provider) and talked to someone as to why, after 16 years of finishing my MS degree I am still paying 30-40% interest each month and how could I fix it? Her reply "pay double".
So yeah, this helps me and a lot of people like me in a big way. We aren't "the elites" (these kids never had to take out loans), or "lazy" or "entitled". Yes, if I had to do it over again I would've done so many things differently but here we are.
Getting a higher education was one of the best decisions I ever made in life. It made me a more critical thinker, a more independent person, and gave me a good career. I think we all want what is best for ourselves and our children and coming from that dead-end background, desperate for a good future and still believed in the American Dream, you jump at the chance when the opportunity arises to get an education and degree and a different life.
If you say otherwise you are lying to yourself.
Training Update (end of July 2022)
Jul 2, 2022
The thing about tri training is everything moves slow. Your progression is slow. Your pace is slower than if you were just training for just one discipline. Your overall day to day movements have to be calculated: you can't go too big on any given workout knowing there is another one coming at you.
Twenty years ago (God has it been that long?) when I raced mountain bikes I was told you need to train 4-6 days on the bike 3-6 hours at a time. I would do hill repeats, long rides alone in all types of New England weather, spin classes for sprints, group rides. Granted I was also 30 years old and had boundless energy and enthusiasm for this new sport of mountain bike racing.
At 51 things are a bit different. You have to train smarter, it's a marathon not a sprint. You absolutely need a plan and you need to follow it 24/7. One night out drinking with the boys or not sleeping will wreck your whole day. You can't push too hard, especially being a fledgling triathlete and every calorie is precious. I made this mistake a few weeks ago when I learned of a new trail that opened near the top of Park City Mountain Resort. I already did a swim that morning but figured if I paced myself and kept my heart rate low I could climb the 3000 or so feet to get to it. Three hours later I knew I was toast for the week. Despite riding at a lower pace and keeping my heart rate down I did too much and paid the price later.
Rest is most important: I need at least nine hours of sleep for proper testosterone building and refueling. Supplements like DHEA and all the vitamins and fish oils and ketones have to pitch in to keep up with the rigors of training at this age. Your body does not produce the chemicals it used to at 30.
Diet is just as important. In 2000 it was all about carbs and meat: Pasta and oatmeal and steak and eggs. Now it's high natural fats, mostly vegan and clean. If I deter from this way of eating I suffer big time. My joints ache, I get foggy mentally, and i see the bloating on my body.
I hurt my left ankle last night. How, you ask? I did it sleeping. In my fucking sleep. My girlfriend tells me I move like an old crippled man after a five mile run or long ride. My knees pop, my neck hurts, my bad shoulder aches, I'm just plum tired. I catch my shadow or a reflection in someones window when I run by and to my dismay I sure as hell run like an old man. In my minds eye I see the Corey of youth: a big kick, long stride, proudly running at a seven minute pace. Instead in my reflection I see a man tip toeing his way forward, stumbling through a workout barely breaking nine minutes.
My biggest obstacle is the swim. My swim times are pathetic and move at a slow snails pace up the Strava 100 yard pace chart (but hey, they are moving in the right direction!). With taking on a huge endeavor like triathlons in your 50s you have to take solace in the small little gains: Not using fins and paddles all the time, not drowning, and not hanging on the wall and flip turns instead. With every 25 yards I feel a little bit more comfortable in the water. Granted, it comes in tiny little increments but patience is a virtue and is one of the positive things that happens with age.
I swim at the Fieldhouse in Park City and being at 7000 feet does make the workouts harder, but also in the next lane there is sometimes a pro athlete or former olympian and many are women half my age completely humbling me with their speed. I get "chicked" by women on runs and swims all the time. Women absolutely crush the long game, probably better than men in my observations. In ultra-running, for example, the pace evens out at super long distances between men and women. Some of the best 100 milers are women. My pride and ego doesn't get hurt when I get passed, unlike some guys, but I do get surprised when it happens.
I have so much more to ponder on this journey. So many thoughts go through my head when training and more to come, but if you will excuse me I need to go shower before my post workout stench makes my dog leave the room.
sitting in the camper
May 3, 2022
Hey, It's me again. It's been a while.
How are you?
It's been a long winter. Lots of snow. Lots of skiing and travel. I went to Canada and skied wonderful big mountains with good people. I ate poutine and drank caesars and ketchup potato chips.
I bought a camper and am now currently in it.
I am in Fruita, CO. 18 Road campsite and one of the best (now unkept) secrets in the mountain biking world, to be precise.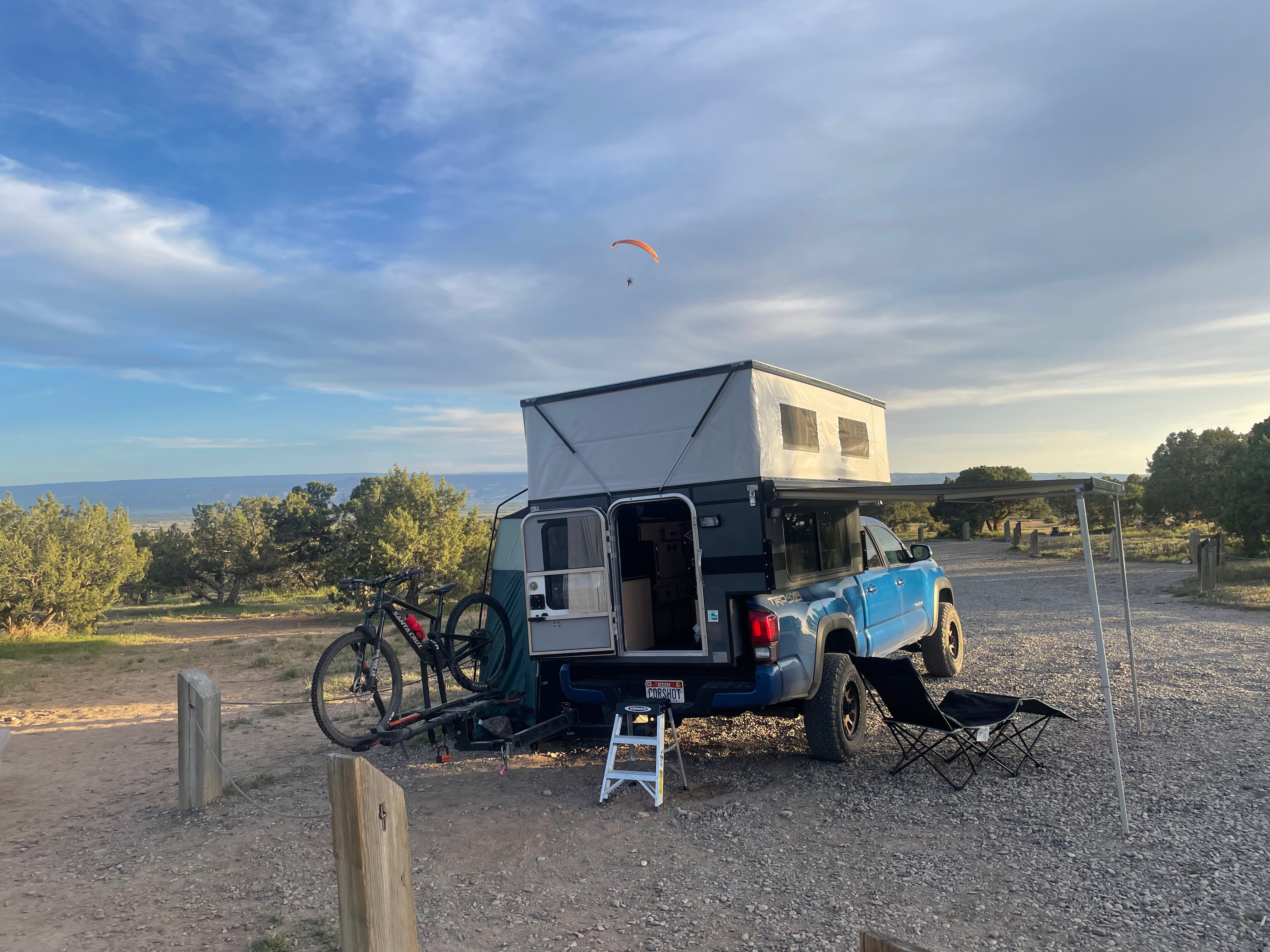 Also, my furnace stopped working again for no apparent reason, about three hours ago.
I have all the resources to see what's wrong with it: internet (spotty and weak through my hotspot on my phone), a very rudimentary birds eye knowledge of the furnaces workings. I also have at my disposal not one, but two, screwdrivers and a drill with which to get into trouble with, and a recently emptied bottle of wine.
I am trying to decide whether I will make it through the night comfortably in my Not Zero Degree Sleeping Bag Which Is Actually A Comforter (since I left my zero degree bag at home, in storage, scoffing at the idea of needing it) or if I shall be forced to put on layers of clothing and count the hours shivering on my three Inch memory foam mattress topper, which becomes rock-like in it's usage as a sleeping platform around 32 degrees Fahrenheit.
The rain is pouring.
My bike is getting wet.
The camper is getting slowly colder.
The furnace refuses to acknowledge my needs.
Also, did I mention my bike is getting wet?
At this point I wonder if this is how the cast of the movie Alive felt when they were pretending to be people that actually ate each other in the Andes Mountains to survive but were really on a set making a movie: Sitting in trailers learning their lines, and wondering if the furnace would go out on them for no apparent reason and cause them to write in their blogs instead of act.
Probably not.
Anyways, aside from the furnace's "sail switch" going out (as my rudimentary google search informs me), I am good. I am peachy. Anna and I have various injuries: her back and my shoulder being the worst of them, but we soldier on. Albeit we soldier on like two active old people complaining about their injuries at the dinner table. At my age I have decided that I shall enjoy the good and the bad, the stresses, the brushes with fame and with death. Death being a lot closer these days than fame, but I digress.
I must say, as I watch a young couple a few campsites away from me struggling with their now-wet tent and dog and gear and bikes and firewood, that the camper, although priced incredibly, ridiculously high, has been a good investment. I am sure with all these headaches, all these "just one more tweak or fix or purchase and this will be perfect" ways of thought, I will throw up my hands in disgust one day and sell the thing. Probably making more than what I paid for it in this market, and enough to fund the economy of a small country. But again, I digress.
Anyways, thanks for checking in, you two, you know who you are. Mahalo!
Get After It
Jan 3, 2022
What are you waiting for?
What, exactly, are you waiting for?
You get 24 hours a day, 1/3 of which you are sleeping, to do something. To make a difference in somebody's life. To make your life better.
How the fuck are you not jumping out of bed to Get After It?
Is it because:
Your diet sucks.
Your attitude sucks.
Your job sucks and is not your passion in life.
You don't exercise enough.
You don't give a shit about anybody else but yourself.
You spend your whole day worrying about what other people think about you and adjust your habits around making other people like you instead of liking yourself.
All those things I bullet pointed above, do they ring true at all? Is it time to quit blaming other people for your unhappiness and stop relying on anybody else but yourself to bring your happiness?
If so, it is time to Fix Your Shit and Get After It.
We are ALL a work in progress. All of us.
I was a cook for years and ate nothing but garbage. Greasy burgers or hot dogs. I was overweight. I drank and did drugs daily. I smoked weed: before work, at work, after work. I would make pipes out of apples in the walk in fridge at the hotel I worked in. I drank cooking wine on the line on a busy Saturday night. I tried to hook up with every hot waitress I worked with. I snorted coke, smoked coke, did mushrooms and acid, ecstasy, molly, ketamine.
I was selfish and completely out of my mind.
I admit I still fall back into what John Joseph (author of The PMA Effect, read it) calls The Enemy Mind: Sometimes I still blame others for shit I have done and later regret it. Sometimes I take a hit of weed and regret it. Sometimes I have a beer after a long day of skiing or biking and later, lying in bed unable to sleep, I regret it. I don't stop to help someone in need or take the time to teach someone something that needs it and I regret it.
Enlightenment is not a straight line. Two steps forward, tiny steps back. It is realizing you are doing it and fixing your shit before that negative mindset takes over again.
I still have a ton to learn, my path wasn't nearly as hard or dark as John Joseph's but it wasn't great either. I was raised by a single mother and disappearing father, two older brothers who considered me a nuisance and an afterthought. I screamed for attention. I yearned to be harder, cooler, more popular than my brothers. Everything was the Corey Show. Everything was a cry into the dark for Eyes On Me. I would drink to black-out, do stupid shit for attention, use people to make me look better.
I was a joke. A fucking disaster waiting to die in a DUI accident and everyone knew it.
BUT…
I will not let this define who I am right now.
Get After it.
------------
Diet
I changed my diet a few years ago to a mostly plant-based diet. The guys in the gym and almost every guy around me lost their minds. These fools acted like it was an attack on them personally.
"How are you gonna get your protein? What, you gonna eat rabbit food all day?" They would ask, smugly.
How about it's been almost three years and at 51 I'm in better shape now than when I started at 20?
I am living proof all those ads you see about how meat and dairy makes a strong body is total bullshit. Back in my younger years when I first started to really exercise and saw the connection to losing my beer gut and food, I trained for body building shows. I ate nothing but boiled chicken and bottom feeding steamed fish. I carried around a cooler full of tupperware meals and a gallon of water. I lost weight and started to see abs and veins. Yet, my breath stank, my pores oozed the nastiness that this diet produced. I was gassy and my ex girlfriend wouldn't even sleep in the same room with me.
I was brainwashed into thinking this was healthy since other guys and mentors I worked with said so. Damn, I have a six pack now so it must be healthy! It was a twisted view on health and what was considered good for your body. It was the 90's after all but yet even now people I know still do the same bullshit diet to get lean for a show.
Hell, the "sport" of bodybuilding alone goes against anything "healthy" for your mind and body. Yeah, just because you are wearing speedos and have orange tanner on and you are pumped and leaned out to the point of risking disease, jacked on whatever to get an edge, and haven't even drank water in two days, does not mean you are healthy.
I can guarantee you that garbage fad Keto/Paleo diet these people are on is jacking up inflammation and leading to a host of chronic diseases and injuries in their bodies. Yeah, At 30 it's easy to talk shit like you know what's up. Talk to me when you get to 50 and can still Get After It.
All that rotting flesh in your digestive tract is gonna catch up to you. Next thing you have a bad back, bad skin, aching hips and knees. Inflammation and rust never sleeps. Trust me on this one.
Changing your diet is the door that opens to the path to enlightenment. All the other things that make you a better person on this planet are on that path, sometimes it takes longer, sometimes it smacks you right in the face. You will feel better, you will look better, you will have the energy to make this world better.
I am not kidding. I am not being hyperbolic.
You can sit there and smirk and say "fuck that, this guy is full of shit" or you can try it and see what all the fuss is about.
Life is too short. Start today. Start right now.
Get After It.
Secrets To A Long Happy Life
Dec 0, 2021
The Four Agreements with additions for a long, happy life.
Always come from a place of Love
Be impeccable with your words
Don't make assumptions
Always do your best
Only put good food into your body
Move your body every day
Laugh loudly and often
Travel
Express yourself creatively and uniquely
Always keep learning
Listen
Keep an open mind