Revelstoke, Icefall and the Gout Monster
March 14, 2023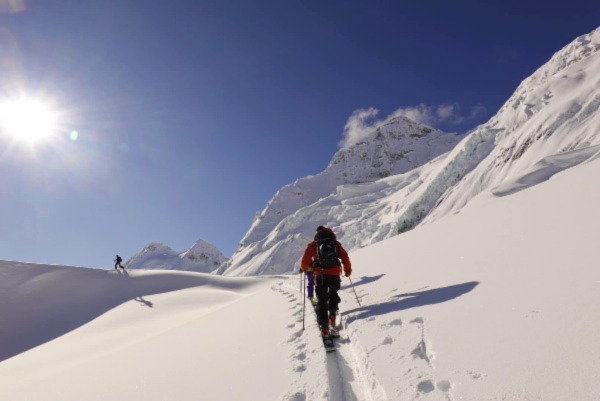 The plan was to drive up to Big Sky and ski a day, then boogie up to Revelstoke for the rest of the week.  There i would meet Young Kyle and the Gritch for some revelry before the heli picks us up to take us off grid to the Icefall Lodge for one week of touring, glacier skiing and rustic off-grid good times.  The only problem is I am, as my ex used to call me, a Sickly Boy.  At my age I have many pitfalls to dance around, STDs to manage, and probation officers to check in with in order to make it happen.
Gone are the days of jumping in a car and just going, plans be damned ! Now I need to plan and organize my pills and powders to get me through this passion play.  
When I am home in Utah I have a somewhat regimented diet and workout plan.  I have a girlfriend who is a sadistic personal trainer, six time Ironman athlete, and an east coast Italian who keep me in line.  Sleep and work and skiing flow together and my body is happy.  
Walking the fine line between being at my best both physically and emotionally and living in a ski culture of apres drinks, free wings, and vape puffs on every lift can be treacherous.  Once I leave the confines of the Beehive State for two weeks of skiing and sodomy my brain somehow reverts to that of a hedonistic 21 year old on spring break. 
I pulled into Big Sky and immediately parked the camper behind The Bar (location unavailable). I had beer, a bacon burger with fries and ordered a bottle of Jameson for the hut.  The next night I crashed at a Walmart lot in Missoula then up to Revy. 
Now the first thing any (slightly) sane person should do at Revy is to order poutine with gravy, an elk burger and a beer with a shaft shot (or four) for dessert.  Followed by handfuls of Old Dutch Ketchips.   Since I am not someone to mess with tradition I stuck with this new dietary plan.  
Two beers, three shaft shots and a caesar (the drink not the salad) later I am doing donuts in the RV lot  with my camper.  I call and tell my lovely lady back home how wonderful it is, how wonderful she is for taking care of business while I debauch, and how incredibly beautiful the Revy sunsets are from the camper.  Her reply of "mmm hmm" sobers me up a bit as I feel like she is (correctly) guessing how drunk I am. 
After two days of this new dietary regiment and long days of skiing we head over Rogers Pass to Golden to prepare for the heli pick up the following day. 
It was then that I started to feel the tingle in my foot of Something Not Right. 
SendyWendy showed up to complete the group and we all headed over to the Wolfs Den for even more poutine, burgers and drinks. We sat at the Wolf's Den bar with a hockey game on every tv, burger in one hand and a beer in the other and the tingle in the foot grew to DEFCON 4 and I began to quietly question my dietary and life choices.
I always thought it was sort of a joke in bad Adam Sandler songs and reserved for fat old men who ate too much meat, but gout is actually hereditary. My brother and father have it but they never really took care of themselves.  For years I thought I skirted that particular genetic flaw by exercising and staying healthy, which I guess I did in a way.  However once I reverted to 21 year old Spring Breaker the genetic disorder smacked me down hard.
As with anyone who has this painful affliction, It mostly comes on at night and fast.  Two hours later and it felt like my foot was broken.   I laid in my cheap hotel bed icing my now swollen sausage of a foot , watching Stephen King's "It" at 3am, and wondered if I had to bail on the trip and was hoping an evil clown could come out of the sewer drain and just kill me.
 Skiing long untracked lines on glaciers notwithstanding I didn't want to lose $2700 American, miss my very first heli ride, and a blow a week off of work because of my bad decisions.  My cheapness (and helicopter fetish) prevailed and the next day on literally no sleep I got to the drop off with the sausage squeezed into a touring boot and a gangster walk that would make Snoop jealous.  
The organizing guide, Grumpy Mike, took one look at my gimp walk and declared to another that I am the guy that "should not be skiing".  Yet as Ullr would have it I sat next to a man and his son from the UK who also suffers the same affliction and had pills that he gave willingly and immediately to a strange, loud, smelly American.  The kindness of skiing brethren and people from England is so understated: He literally saved my trip.  I missed one day of skiing that I was told wasn't great and by Monday I was hiking up to ski ridiculous lines around the Icefall lodge. 
IceFall 
The guides at Icefall are top notch, they know their shit and are some of the best in the world.  I've seen them wash dishes, stoke fires, clean toilets, carve each kick turn switchback on the skin for easy turning and shovel ten foot high snow off the odge's roof.  They did all of this after or before kicking our collective asses up and down 5000  feet of vert daily.  One guide in training, a stoic yet very kind Russian bear named Dennis, took the Gritch's skis when he broke a skin hanger and put them on his back, gave him his skis and boot packed the rest of the way to the lodge, almost beating the crew that were on skis.
As superhuman and nice as the guides are this isn't Disneyland:  They aren't going to hold your hand or get you a tow rope to the top and they will definitely bust your balls (in a kind Canadian way) if you whine or complain.  I watched our guide (jokingly) tell a an older  man that wanted to bail to take some concrete pills so he would "harden the fuck up" for the next day.  I immediately loved our guide. 
I have to take this moment to make a note here:  Don't sign up for any group guided touring event and ruin it for everyone if you didn't train for it and are not prepared or if you are generally an asshole and not good with people.  It's a group effort and you are living together, eating together, possibly even saving each other's lives. If you bitch and moan amongst some of your comrades after 2k of vert that your tootsies hurt and want to go back to the hut you will be shunned and ridiculed. Don't be that person.  This guy I just mentioned was apt  to divide the crew between Us and Them and told SendyWendy that we were "voted off the island"  for being our typical loud American Asshole selves, despite he himself being a loud know-it-all Canadian Asshole, but I digress…
Also Note: I once went cat skiing with a Canadian gal in Park City.  It was epic conditions: Deep and untracked on every ridge. On the way up we learned a few of the guys were hedge fund managers from LA (because that's what they told us immediately upon sitting down in the cat).  We got out and they grabbed their pristine Soul 7s with heavy marker bindings and race walked to get first in line for the drop like it was Black Friday and Target was opening. Our guide told us to farm and floss and keep our lines tight and If we were a fast group we could get an extra lap or two.  Common knowledge for group tours: move like a well oiled machine and reap more face shots. The First Alpha banker dropped after the guide and proceeded to make big wobbly wide turns and blow past the guide by 100 feet, and the second guy crashed dropping in and had to take ten minutes to recover his yard sail before we could go.  The guides were not happy, we were laughing uncontrollably and by the end of the day they cost us a cat run. There was no point to this story other than: don't be That Guy. We are all in it together.
Anyways, My foot felt fine and later Kyle and I were scooting up the skinner trading bad movie quotes and one liners.  When we got to the top the group let me drop first due to missing a day and I finally pointed my Moment Deathwish Tours (with Voyager bindings)  downhill on a somewhat flat ridge which rolled over and narrowed into a walled chute and then out again on a wide open apron.  I screamed like a blood lusted viking entering Valhalla.  The snow was perfect.  Kyle followed me on his Moment Wildcats (also with Voyager bindings) barely turning and going 60 mph (100 kmh).
We got into the woods for our second ascent and dropped into a narrow slide path of untracked beautiful snow through tiny pines and contoured rollers under blue skies.  I watched each member of my new temporary tribe ski down. Huge whoops and smiles all around and some of the older folks displayed such perfect form and grace on their descent.  We all hit the bottom hooting and high fiving. Strangers were becoming friends through a shared love of this grunt -and-grin activity of ski touring.
The next day Dreaded Goutfoot still felt ok thanks to the UK pills and we toured out to the glacier hut for a night.  With harnesses in our packs and two lunches for the next two days we were told the glacier hut was a bit rustic (understatement).  But, we would ski  a classic: The Tempest.  The prospect of skiing this bucket list line was too tempting not to risk possibly having the demonic gout return and get stuck out on a glacier unable to walk.  The idea of a heli SAR coming to get me if I couldn't get back sat foreboding in the back of my mind. 
We skied 5k vert and the hut was indeed rustic.  The nasty gout monster somehow worked it's way into my toes possibly due to the seven hours of squeeze in my ZeroGs and I ran out of magic UK beans ( hey a rhyme!). That night ten of us slept in one big room in single beds: a cacophony of snoring and creaking wood bed frames, to the beat of the thrumming of my foot getting worse and the ugly gout monster returning for another round.  The threat of a SAR got realer and I got no sleep, a shower, or even a pillow. 
The next day our guide Ryan asked about my foot. I had the option of staying at the hut all day and wait for the next group or taking some Tryactin pills ("tryActin like a real backcountry skier").  I dry swallowed four ibuprofen and squeezed the foot into the boot. After a quick standing, one footed hop and Ministry of Silly Walks test I went for it, and I was so glad I did.  
We proceeded to hike the Rostrum glacier on one of the coolest up tracks i have ever seen.  Through ice fields and around huge crevasses we ascended methodically to the top of the Tempest.  A recent slide occurred and we had to ski the debris before entering the wide open untracked powder field.  
To say skiing glaciers makes you feel small and vulnerable is like trying to compare a planet to a star.  Glaciers are big. Very big . I am very small and fragile. It's not a fair fight. 
I will state again how impressed i am by the dedication, knowledge and raw energy of our guides.  Not once was I worried about slides, non-contoured skinners, or even bad snow conditions. Any zipper crust or wind scour was observed and direction changed to a more suitable zone.
We made it back to the main hut in time for four o'clock snacks and my foot was pretty much back to DEFCON 4 level of pain.  I had to take the remaining two days off to rest and ice but the three days  and 15K vert that I had skiing Icefall were among the best days of skiing in my life.  I cannot thank the guides and Chef Geoff enough for their hospitality. 
We got back to Utah in time for yet another forty inch storm and hopefully with strong meds and a strong will I can get some of it. Now if you will excuse me I have to go fill a prescription…
---